Here's another outdoor activity for you to try with the kiddos! It's called Framing Nature. We did this at our last Nature For Kids  outdoor playgroup.
I started by asking: Have you ever taken a picture with a camera?
If you have a camera let each child take a turn looking through the lens.
Tell the kids: When you look through the lens there is a square around the item you are taking a picture of. This square is called a frame.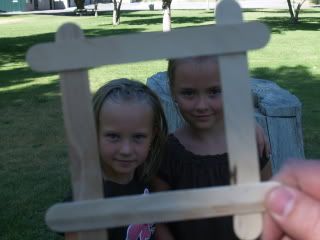 Make frames out of popsicle sticks or tongue depressors by gluing the ends of four in a square…like this.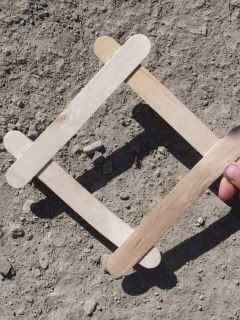 With your frames go for a hike and have the kids pretend to be taking pictures of the things they see with their frames.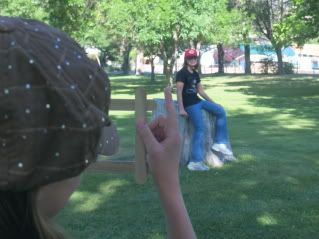 Discuss with the kids that when we go hiking outdoors we should, "Take only pictures and leave only footprints".
For the next part of the activity take a large rope (about 6 ft. long) and tie the ends together. Stretch it out over the trail in which you are hiking on so that it looks like a frame. Have the kids look inside the frame and tell you if they see anything living or moving inside of it.  If it's a well established trail there should just be rocks and dirt.
Next move the rope frame off to the side of the trail where there is lots of vegetation. Again ask the kids to look for anything living or moving inside the frame. YES! …Inside our circle there were ants scrambling about and different kinds of plants growing.
After this activity I pointed out that we should always stay on trails when hiking. If we find ourselves hiking on living things we should return to the trail so we won't hurt them.
Nature For Kids thinks this Framing Nature activity is a fun, simple and interactive way to teach Leave No Trace principles.
If you'd like some more activities to try out click on our Education or Crafts For Kids categories.
nature for kids, framing nature, outdoor adventure, activities for children, activities for kids, leave no trace, kids activity, hike

Shawna is passionate about getting kids outside, a pro at procrastinating laundry day and an advocate of impromptu road trips. She's been in the recreation industry for 18 years.