As our family has evolved over the past 10 years we've learned two things that bring us together like nothing else can…work and play.
Nature For Kids is extending a challenge to you and your family for 2010…Work Hard, Play Hard!
After a recent snowstorm we went out as a family with shovels in hand to clear our driveway. It took quite a while and there were some mumbles and grumbles here and there but when we finished the kids were very proud of their efforts. They were even more proud of hitting dad with a snowball the size of a bowling ball. That launched our Work Hard into Play Hard… we had a snowball fight which ended in a massive dog pile and laughter.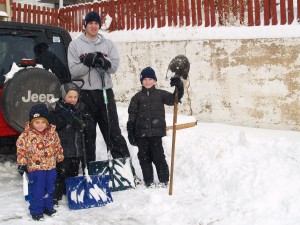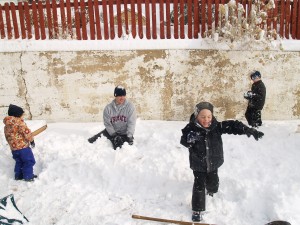 When working as a family: Let everyone participate, even the little ones. Our 3 year old could hardly lift the snow shovel so we gave her a little brush to sweep the snow off the cars. She was a little busy body and enjoyed helping out in her own way.
When playing as a family: Forget the work and play hard. Take advantage of the valuable time together to get to know each other better and create lasting memories.
Nature For Kids wishes you all a wonderful 2010, full of hard work and outdoor play!
Share with us your experiences of hard work and play as a family…leave a comment or Contact Us.
nature for kids, playing outside, play, work, 2010, new year

Shawna is passionate about getting kids outside, a pro at procrastinating laundry day and an advocate of impromptu road trips. She's been in the recreation industry for 18 years.