Do you ever get tired of the same family reunion lawn games of horseshoes and bocce ball? Well here's a new game even your Uncle Eddie will appreciate.
It's actually not new at all. It's been around since the early 1800's but now it has a new twist. It's called Ring Stix. Back in the day it was called Game Of Graces. It was considered a proper game for young ladies and supposedly made them more graceful. (I thought that's why they walked around with a book on their head.)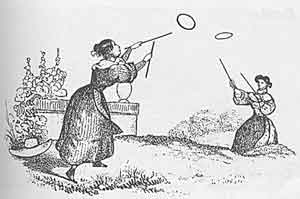 It's played with two people and includes two wooden sticks for each player and one wooden ring. You place the wooden sticks inside the ring and rapidly pull them apart causing the ring to shoot off the ends. The other player tries catching the ring with one of their sticks.
Ribbons were often tied to the wooden ring to allow it to stay in the air longer, be more durable and let's face it, to make it more pretty for those young ladies learning some graceful skills. 🙂
Ring Stix, the new version of the game, is appealing to more than just young ladies. For one thing the sticks are shaped like swords, now that's a touch of masculinity! And the ring glows in the dark, HELLO NIGHT GAMES!

We took our Ring Stix to the park and tried them out…here's the footage.

I wouldn't say that Ring Stix has made us and the kids more graceful but it sure has given us a good excuse to head outside! Ring Stix is on Facebook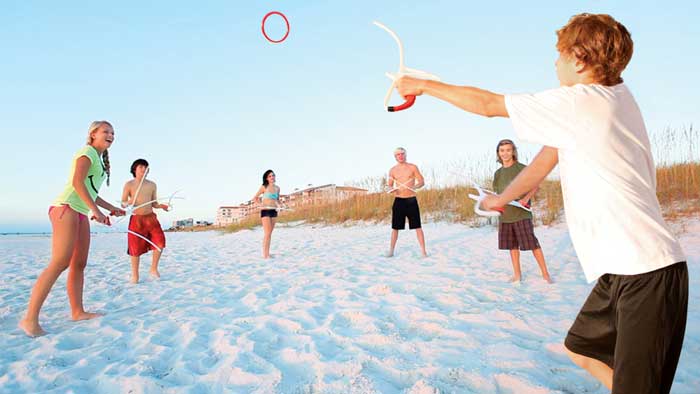 I was thinking if you wanted to create your own practice set before you step it up to the big leagues, an embroidery hoop and two wooden dowels from the thrift or craft store would do the trick too.
But if you want to impress Uncle Eddie I'd step it up and just go buy the Ring Stix for $20. It's cheaper than taking the family to the movies!
Ring Stix, lawn games, outdoor games, family reunion, Uncle Eddie, game of graces, young ladies, park, playground, play, night games

Shawna is passionate about getting kids outside, a pro at procrastinating laundry day and an advocate of impromptu road trips. She's been in the recreation industry for 18 years.