This summer we decided it was time to take the entire family on a backpacking trip. With four kids and two of them under 5-years-old we had to get creative with the packing and the transportation if their little legs gave out.
We decided to pick a familiar trail that we knew our jogging stroller could go on so #1 the stroller could help hold gear and #2 if the little ones got tired they could hitch a ride for a bit. The trail we chose has moderate elevation gain, low mileage (only 5 miles round-trip), and bonus hot springs at the end. It's called Fifth Water Hot Springs.
We had to take:
6 sleeping bags/sleeping pads
food and water for two days
6-man tent
first aid kit
swimsuits
The three older kids each carried a 1/4 of their body weight. Here's the breakdown…
Scout: (age 4) weighs 39 lbs / carried 9 lbs (water and food)
Kronk: (age 7) weighs 50 lbs/ carried 12 lbs (water and food)
Doober: (age 9) weighs 90 lbs / carried 15 lbs (water, food and sleeping bag)
I carried Hiccup in our Kelty Child Carrier along with water, sleeping bag, diapers, clothes and the cooking gear. Damon took care of the rest between his pack and the jogging stroller.
Favorite Food Of The Trip: Idahoan Instant Mashed Potatoes
The entire family gave them 5 STARS (they were so warm and yummy and all we had to do was add 2 cups of boiling water and stir)
what we also ate:
Couscous – this is warm too and doesn't take long to prepare, unlike noodles or rice. Just pour boiling water over it and cover for 5 minutes. We added some sun dried tomatoes to it. Yummers! (they pack tight too)
Spam – I don't like eating this at home but on the trail it's delicious fried up. It now comes packaged in foil packets rather than just cans so it's backpacker friendly.
Tuna – Like the spam it comes in foil packaging now too. We made it tasty using little mayonnaise, mustard and relish packets from the deli. We ate it on flat bread.
Trailmix – We like to mix cashews, almonds, dried fruit and yogurt raisins together.
Oatmeal – You can never go wrong with this. Plus it's easy to beef up with a little bit of dried fruit.
We also brought the GoGirl along for this trip. Scout always has to go, shall we say tinkle, when we're outdoors. No joke, at least three times while on a short hike. And part of it always ends up on the cuff of her pants. So we thought we'd give it a try. It allows girls to stand up while going pee. It was effective but awkward…I think it's going to take some practice.
Doober also used his Deuter Fox 30 youth backpack. Which is proving to not disappoint with each outing we go on. The pack is meant to grow with him. It's compact enough now to hold smaller loads and as he grows it has the ability to hold a lot more and adjust to fit his torso. I didn't hear Doober complain about the pack at all during our trip so I'm guessing the fit must have been right. You'll be seeing this more in the future at Nature For Kids I'm sure.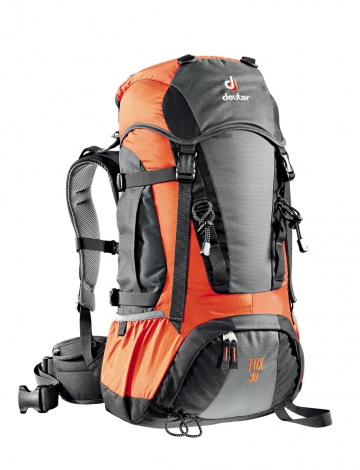 So overall what are my thoughts on our first family backpacking trip? Well we all managed to survive and had some fun along the way so that's a SUCESS in my book.

Shawna is passionate about getting kids outside, a pro at procrastinating laundry day and an advocate of impromptu road trips. She's been in the recreation industry for 18 years.