Meet Elijah…He is from the outdoor recreation capital of Jackson Hole, WY. His bike ride to school each morning is different from most kids. It usually involves temps below zero and snow packed roads. His ride is modified with homemade studded tires compliments of his adventure prone dad.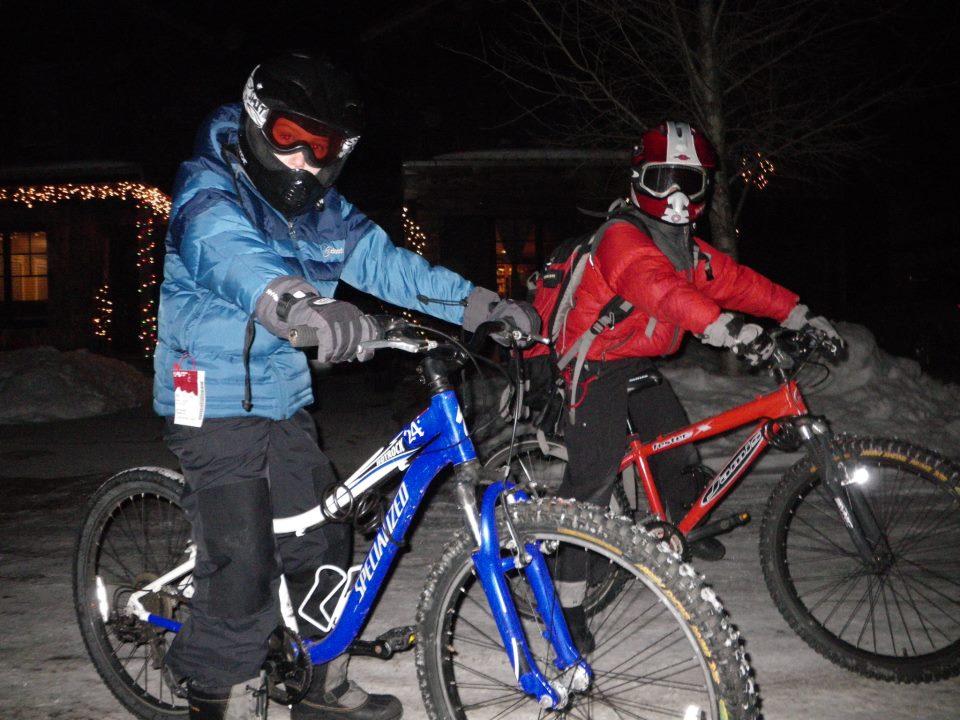 Elijah and his buddy wear full face helmets to protect their faces from the ice and packed snow that is ideal to ride on.
"We got fat mountain bike tires and screwed broken (cut off) screws through the tire from the inside then mounted and inserted the tube. You have to be careful because these things can rip your pant leg (or maybe car upholstery if you put them in)."
Modifying your bike tires to ride on the snow isn't your only option. Snow friendly bikes are now on the market. They're known as fat bikes. The frame is built to accommodate a much wider tire, up to 4 inches.
Snow biking is rapidly growing in popularity in the Jackson area. Nearby ski resort Grand Targhee is the first in the U.S. to endorse snow biking on their nordic trail system. And Snow King ski resort directly in the middle of Jackson will be hosting a snow mountain bike race this weekend February 11th.

video
If you're nearer to sandy beaches than you are to snowy mountains no worries. Fat bikes are ideal for sand riding too. Here's a vid to wet your appetite…

video
Looks fun eh! If our tax returns weren't already spoken for this would be a nice addition to our recreation gear.
Here's a big thanks to Elijah's mom for sharing the pics and info and supporting a healthy extreme sport addiction in her kids!
Have you ever ridden a Fat Bike? Your thoughts?


fat bike, snow biking, snow bikes, Jackson Hole, Wyoming, ski resort
Grand Targhee, Snow King, nature for kids

Shawna is passionate about getting kids outside, a pro at procrastinating laundry day and an advocate of impromptu road trips. She's been in the recreation industry for 18 years.