How many screens are in your home? We have 6 amongst TVs, computers and handheld devices. We were pretty low tech just three years ago but now every member of our family could potentially have their own movie, game or whatever playing at the same time. Amazing… yet disgusting.
Next week April 30th – May 6th is Screen-Free Week. Our family is going to take part. I don't think it's going to be easy. It's never easy changing our habits.
Recently I set out to not eat sugar for three weeks. I rocked the first few days and then after that I wasn't very successful. I think the main reason is because I wasn't very well prepared. I didn't have go-to snacks ready for those moments when my discipline and motivation were shot.
I think this may be a similar experience. So we're planning ahead. Here's a list of outdoor friendly activities we put together to be our go-to activities when our desire for screen time is screaming in our ears. I'm going to put it on the refrigerator. Go ahead and print it out for yourself if you'd like.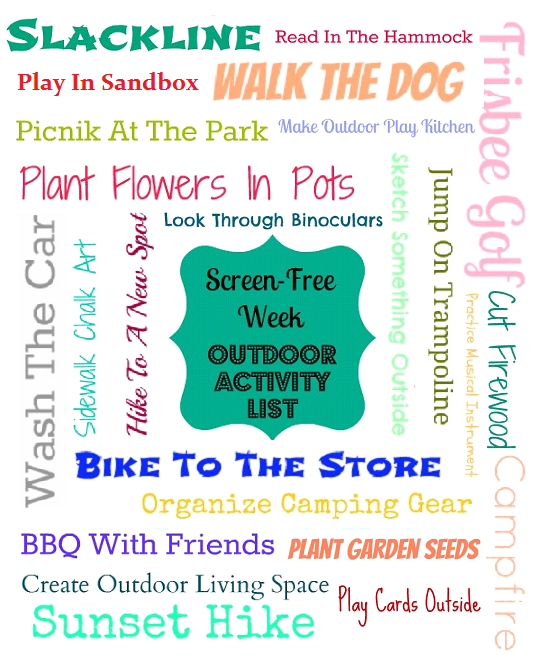 screen free week activity list
We're not doing this because we think computers and television are bad. We're doing this to remind ourselves that it can be done and to basically experiment and see what happens. I'm going to keep a notebook handy throughout the screen-free week and write down thoughts that pop into my head and have the kids do the same. We'll share them with you after the event.
Tales Of A Mountain Mama is hosting some great interactions online throughout this week called Gearing Up Families To Go Screen-Free.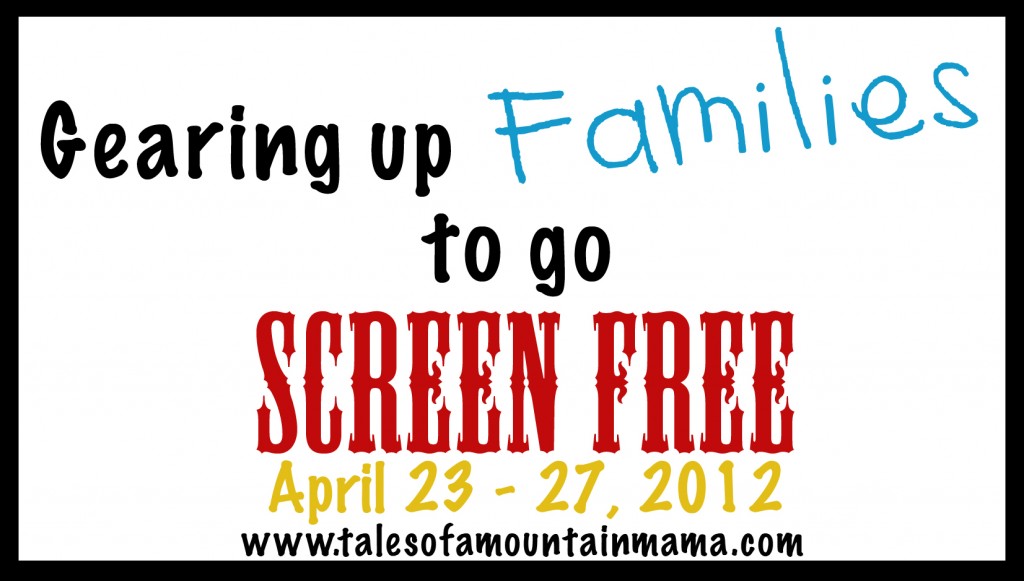 There will be lots of outdoor gear giveaways and lots of information and advice. So go check her out along with these other great outdoor bloggers:
Consider this post my motivational speech about going screen-free next week, I know it's not as good as what Matt Foley could pull off but I hope it makes you want to take part!

screen-free week, screen free, screenfree, nature for kids, free printable

Shawna is passionate about getting kids outside, a pro at procrastinating laundry day and an advocate of impromptu road trips. She's been in the recreation industry for 18 years.