LOADED! We are loaded with brand spankin' new outdoor kids gear to show you. A lot of what you'll see today won't even be available in stores until 2013. I have 13 products that made my latest and greatest list so let's get started!
Burley Plus Converts Trailercycle Into A Bike – I have an old school Burley trailer that I got at a garage sale…it's solid as a rock. Who knows how many kids, pets or groceries have sat in that old thing. Burley is one of those brands that just isn't going away. And in 2013 they are introducing an amazing product called the Burley Plus. It's a trailercycle that converts into a bike. This lengthens the life of your Piccolo or Kazoo trailercycle. Retails for $159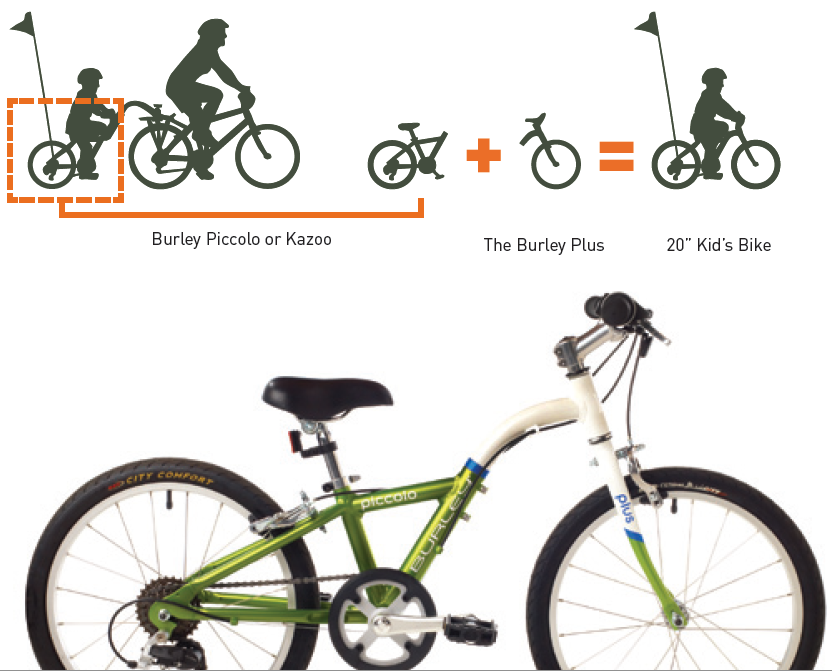 Lifetime Hooligan Youth Paddleboard –  The Lifetime youth paddleboard was present at the outdoor demo day during the outdoor retailer. It's for kids ages 5 and up. It's 8 ft. long with a weight capacity of 130 lbs. It's super stable and can be used in surf or flat water. At $449.99 (on-line) it Includes an adjustable youth paddle. If you happen to have a Sports Authority nearby you can get your hands on one for $249.99! Utah residents can go to any five Lifetime store location and get it for that price as well.This is a very reasonable price…you'll be seeing more of this paddleboard here at Nature For Kids because we have one!  It will be fun to add to our other SUP boarding adventures.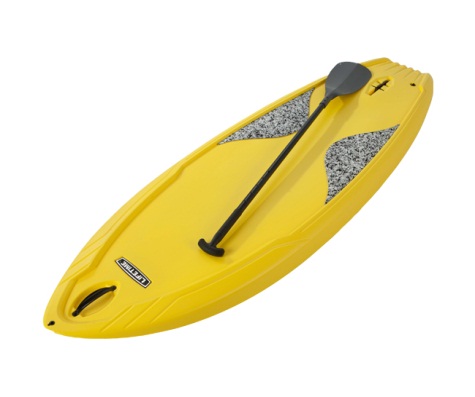 Eureka's Affordable Low Degree Junior Mummy Bag – In November Eureka is adding a competitive mummy sleeping bag to the kids section. The boys version is called the Cyprus and the girls will be known as the Azalea. It's designed for those 5 feet 6 inches and under and is a 15F degree bag. It will retail for $59.99 and weighs 3lbs. 7 oz.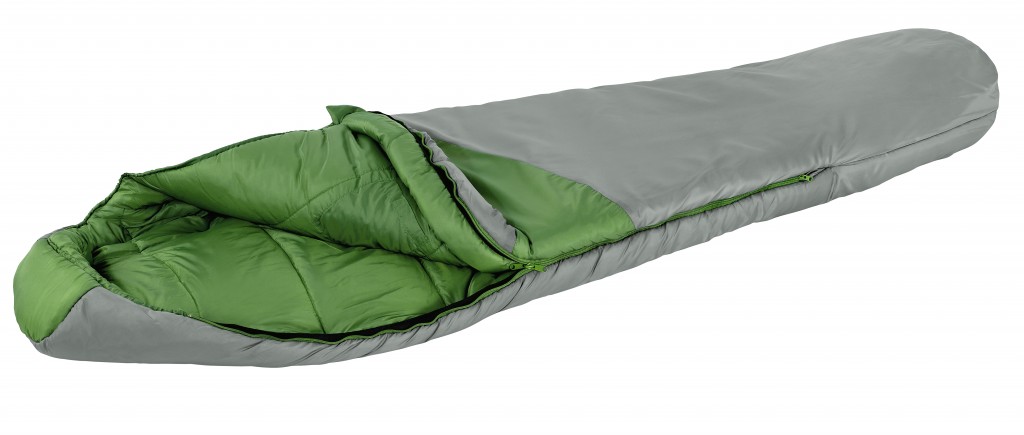 Bergans Youth Backpacks – I have a soft spot for these Scandinavian makers of outdoor gear. My husband's fam comes from Oslo. Plus I have a weird obsession with their cross country skiing culture. Bergans has been a leading brand in Norway for a long time but are new to the North American market. In 2013 they're coming out with two new youth backpacking packs, the 40L Birkebeiner Jr. ($109) and the 18L Nordkapp Jr. ($39). We'll be reviewing one for you coming this spring!
UV Skinz Protective Clothing For Infants and Kids – First off the story behind this line of sunblock clothing is a heartfelt one. The founders husband was an avid surfer and snowboarder. He died of skin cancer at age 32 leaving behind his wife and three young boys. Their mission, protect children from the damaging rays of the sun. They make clothing that's made of 50+ UPF certified fabric.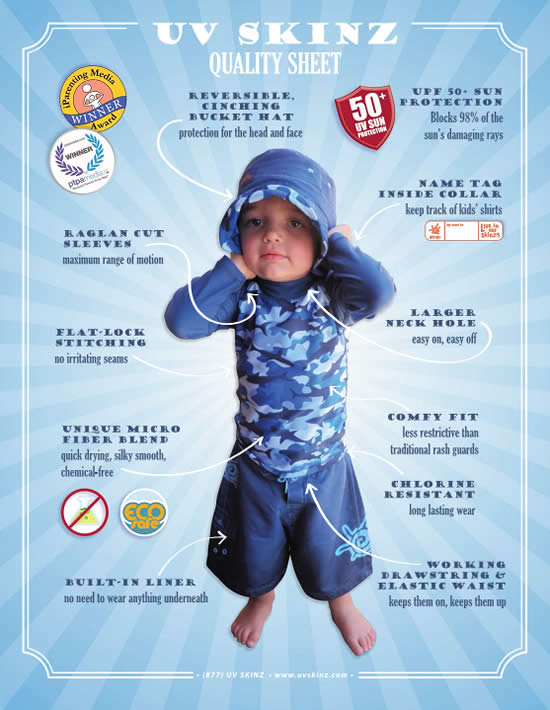 Avex Freestyle Kids Water Bottle –  A new water bottle for kids on the scene that has a spout that pops up at the touch of a button. It's called Autospout technology. So easy my 2-year-old can do it. Besides the impressive lid it is BPA free. When the spout is down it has a shield over it, protecting it from germs and dirt. Also has a built in carabiner and volume markings. $9.99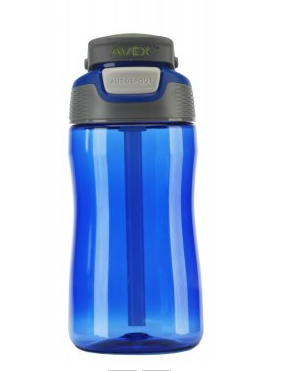 New Styles Of Hi-Tec Big-Fit Shoes For Kids – Hi-Tec's new Spring 2013 line for kids is looking mighty fine! And they've integrated their Big-Fit system into them! Meet Omaha Jr. ($60) and Omaha Low ($50).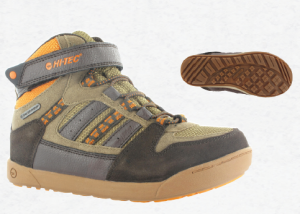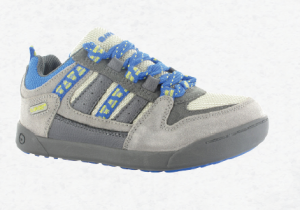 And for Mama?…these caught my eye. They are the Sierra Lite Original ($70). In 1978 Hi-Tec came out with the industry's first light hiker. This spring, Hi-Tec is bringing it back with its original, classic look, updated technologies and fun colors. The one below is bermuda with purple laces…ya baby.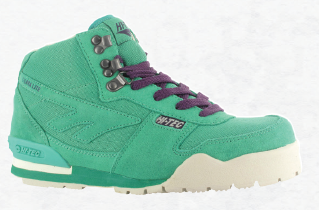 Piggyback Rider Advancements –  Piggyback Rider is branching out from their original release we told you about earlier this year. They've created 4 impressive new models Basic, Deluxe, XL and Hydrider. The Basic (89.99) has the bar for the kids to ride plus an added rear zip pocket for small items. The Deluxe (109.99) features a deluxe child safety harness (which is essentially a hydration backpack the child wears that has straps which attach to the carrier. It keeps them from falling backwards.) The XL (139.99) is a standard backpack with a secret hiding spot for the bar when it's not in use. The Hydrider, pictured below, (149.99) has a hydration pack for mom or dad and one for the child as well that acts as a safety harness.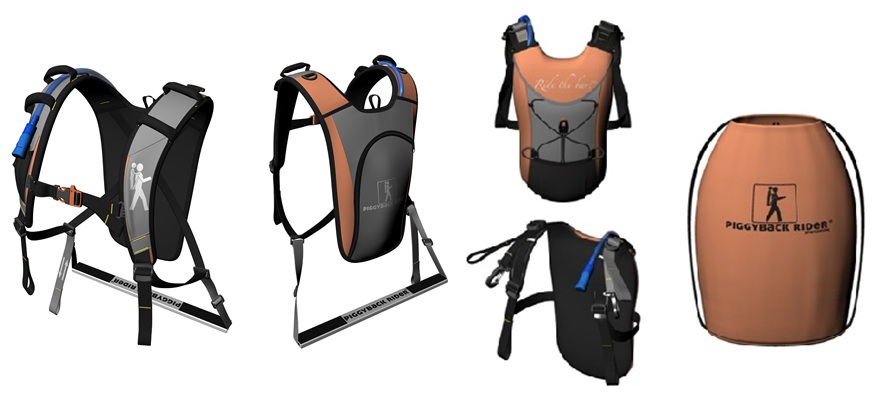 Joovy Bicycoo Balance Bike – I was gushing over these balance bikes! Joovy's bicycoo has won design awards at Europe's largest trade show. It has a hand brake for the rear tire, something I wish my little girl's balance bike had when she almost hit that fire hydrant. It also has pneumatic tires, not plastic. It's made for kids 3 and older. There are two styles, the original bicycoo (149.99) and the bicycoo BMX (139.99). Joovy also has some killer strollers and high chairs you might want to take a peek at.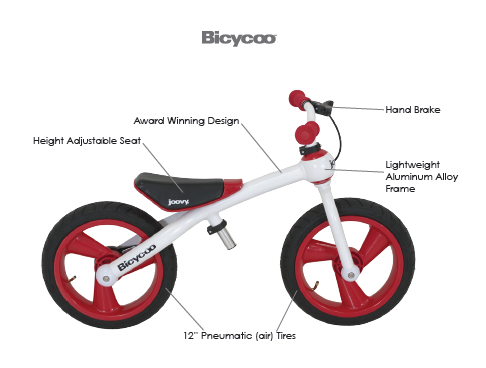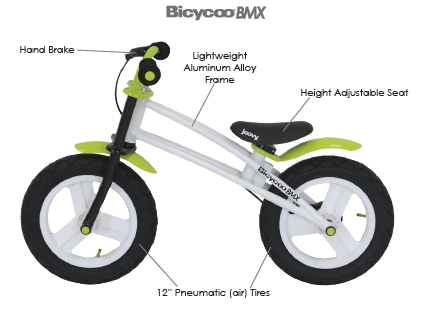 Liberty Bottleworks New Kids Designs And Sport Cap – To me the function of a product is important but I'm a sucker for things that just plain look good. Luckily Liberty Bottleworks has both. here's some of their killer new designs for kids water bottles. P.S. all of their bottles are made in the U.S., made of 100% recycled aluminum and wait for it…BPA free. Sales from their kids collection support Big City Mountaineers, an organization dedicated to mentoring urban youth. 16 oz. $18
Chariot Urban Series – Chariot is the powerhouse in aiding parents to take their kiddos with them in the outdoors. Last year they were bought by Thule, the powerhouse of roof racks. Good things happen when they team up. Introducing The Chinook, the first of Chariot's urban series. Because urban folks explore the jungle everyday!  When I touched the handlebar of this baby I felt like superwoman. There's so many goodies that I can't list them all here. You'll just have to watch this video. At $949.95 it's similarly priced to Chariots most hardcore child carrier, the CX, which is capable of adding cross-country ski, bike, hike and jogging attachments.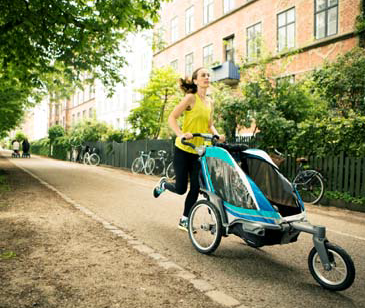 Go With Me Chair – Oh now here's a little campers dream. Made by Kelsyus, this portable chair changes into different positions for three growth stages. ($89.95) It has a detachable sun bonnet, removable tray for snacks or toys and fits infants to school aged kids.
Mountain Mama's New Maternity Line – A few days ago I gave you the scoop on Mountain Mama's new maternity rock climbing harness ($120), which was created in conjunction with Mad Rock Climbing. It's the worlds first! Crazy cool. Plus this spring Mountain Mama is bringing those glowing woman cycling apparel, running skirts, swimsuits, technical tops, bottoms and dresses.
Whew…I'm wore out folks. Hope you enjoyed this installment of Latest and Greatest!
L8RSK8RS,


Burley, Burley Plus, trailercycle, Lifetime, Hooligan Youth Paddleboard, SUP, SUP boarding, Eureka, mummy bag, affordable, Bergans, UV Skinz, backpacks, UPF certified fabric, sun protection, Avex, water bottle, Avex Freestyle, kids water bottle, Muna Jr., Sierra Lite Original, Hydrider, Joovy Bicycoo, Bicycoo, balance bike, Liberty Bottleworks, Big City Mountaineers, Chinook, Chariot Carrier, Chariot Chinook, urban, Go With Me Chair, Kelsyus, cycling apparel, Mad Rock Climbing, Hi-Tec, BigFit System, stand up paddle board, mountain mama, maternity rock climbing harness, piggyback rider, latest and greatest

Shawna is passionate about getting kids outside, a pro at procrastinating laundry day and an advocate of impromptu road trips. She's been in the recreation industry for 18 years.