Today we bring you our outdoorsy gift giving guide for this holiday season…
Give The Gift Of Handmade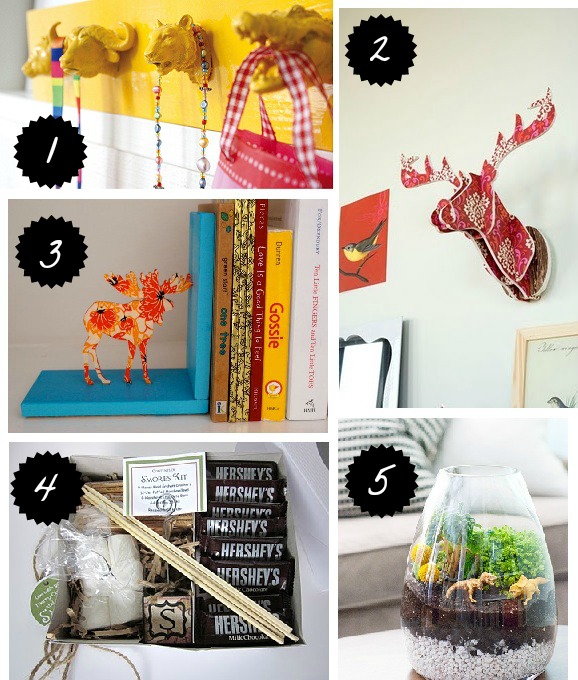 1.) Animal Coat Rack
2.) Deer Antlers
3.) Animal Book Ends
4.) Smore's Kit
5.) Terrarium
Give the Gift Of Experience
3.) Lift Tickets
Give The Gift Of Gear
1.) Headlamp with hand shadow instructions.
2.) 50 Dangerous Things (you should let your children do)
3.) Colored Campfire
4.) Toboggan
I don't know what it is but I'm in the Christmas spirit a little earlier than normal this year. The festive music has been playing around our house for a couple weeks already and I can. not. wait. to put up the tree. We're hoping to take the fam and cut one down this weekend!
Today I'm going to leave you with one of our favorite Christmas tunes and a list of other gift giving guides from my fellow outdoor bloggers!
Christmas Gifts For Skiing Families
Christmas Gifts For A Year Full Of Family Adventure
DIY Gifts For Outdoor Families
Holiday Gift Guide For Outdoor Families
Gifts To Encourage Your Budding Scientist
Christmas Gift Ideas For Outdoor Children
Gifts Ideas For Backyard Nature Fun
Top 10 Gear Picks For Outdoor Tykes
Have a wonderful Thanksgiving everyone,


Christmas, Christmas tree, holiday craft,holiday decorations, holidays, handmade, handcrafted,gift, gift giving guide, gift idea, gifts, outdoorsy, nature for kids, gear, Christmas present ideas

Shawna is passionate about getting kids outside, a pro at procrastinating laundry day and an advocate of impromptu road trips. She's been in the recreation industry for 18 years.