I write today's post with a heavy heart. A fellow outdoor blogger and friend of mine lost the life of her sweet 2-year-old boy, Axel, a couple weeks ago. A memorial service is being held today in Colorado. And although far away, I thought it only natural to share with you the inspiration that that little guy and his family have been to me and many others.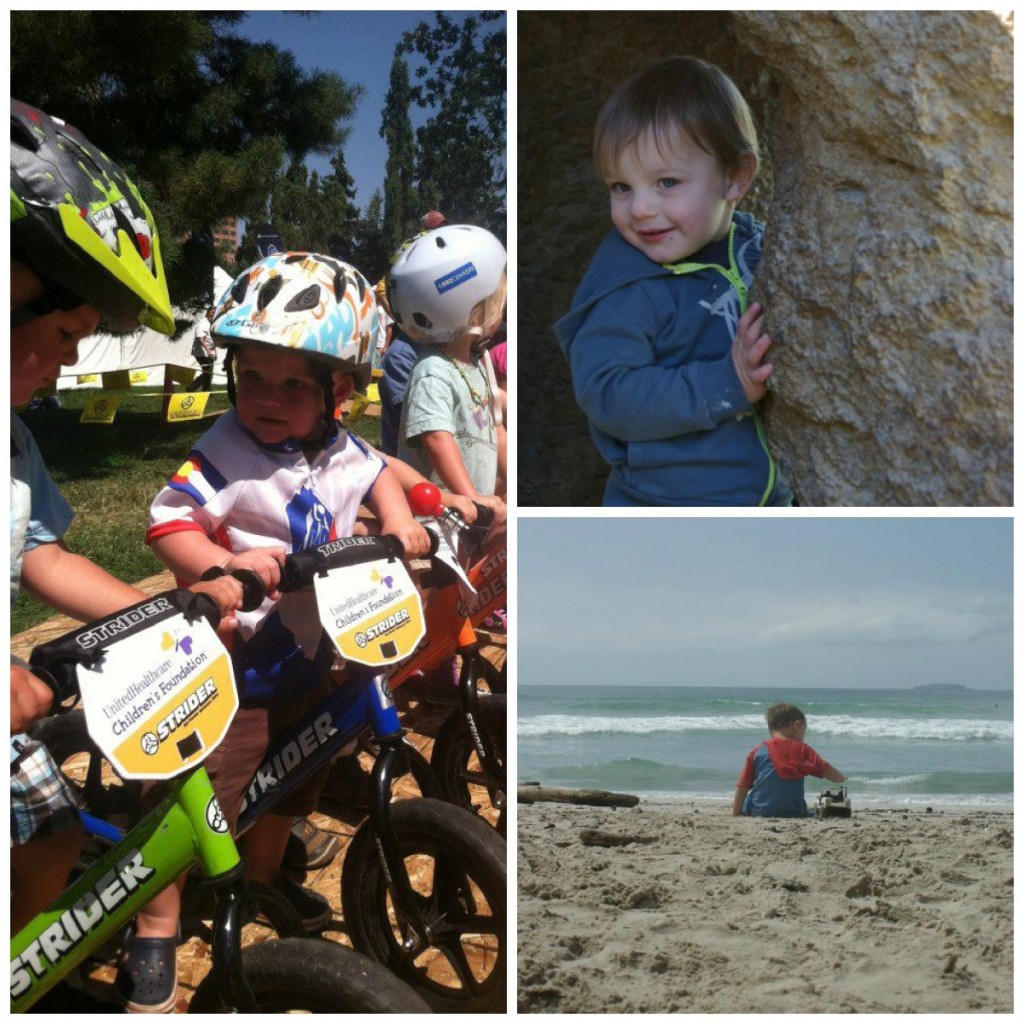 Axel Charrette (photos via Jennifer Charrette's Facebook Page)
I started following Jen's blog, Velo Mom, probably a year ago. Each post is inspiring and has a way of nudging you out of your recliner and outside onto your bike seat. Since October their family has been traveling all over the US and Mexico riding single track and catching waves all along the way.
They've been living life to the fullest, doing something that most of us wish we had the guts to plunge in and do. They successfully figured out a way to take school and work on the road, leaving behind the things of the world and creating experiences that will stay with them forever and bind them as a family. I sincerely believe that although Axel was only 2 when he passed on he lived a life fuller than most thanks to his parents.
I encourage you to go and read their blog and be inspired yourself. I would also encourage you to vote for Velo Mom as one of the Top 25 Outdoorsy Mom Blogs over at Circle of Moms.
Jen and Randy's reaction to a fund set up to help their family was this, "We are going to use that money to get kids on bikes…the fund will go towards continuing Axel's passion for riding to other kids that might not have that chance otherwise." I thought this was a great example of how big their hearts really are and a great way to show their love for their little Axel.
If you'd like to donate to this fund you can send a check made out to the Axel Charrette Fund to Alpine Bank, 119 Liddell Drive, Ridgway, CO 81432.
I'll close today with this short inspiring video and a quote that I actually found inspiring, that Jessica over at Bring The Kids posted on her blog.


"If life and its rushed pace and many stresses have made it difficult for you to feel like rejoicing, then perhaps now is a good time to refocus on what matters most."
President Dieter F. Utchdorf of the First Presidency of The Church Of Jesus Christ of Latter Day Saints
Thank you Jen and Randy for your wonderful example of loving your family and focusing on what matters most! My heart goes out to you….


adventure, explorer, life, death, moments that matter most, travel, family, experiences

Shawna is passionate about getting kids outside, a pro at procrastinating laundry day and an advocate of impromptu road trips. She's been in the recreation industry for 18 years.