This post is sponsored by FreeCountry.com
Do you take your car in for an oil change? Maybe put on some new wiper blades or change the air filter now and again? Yep, so do I. Major problems are less likely to occur if you give it some attention.
Marriage is a similar scenario. You have to do some maintenance, and my hubs and I have found that recreating in the outdoors together does the trick.
We've been married 13 years! Being in our adolescent stage of marriage, like a teenager, we often think we know what it's all about. But I'll be the first one to admit that we're lifelong learners and we'll have our fair share of humbling experiences. So with that said…
Here's 5 Tips For Marriage Maintenance Through Outdoor Recreation
Ride The Lift – This should remind you to plan activities that will keep you close and encourage interaction. It's easy to focus on one another at a ski resort when you're on a snug chairlift together 20 feet off the ground in freezing temperatures…snuggle up buttercup.
Research Together – Researching your next backpacking route on the internet together or thumbing through magazine pages featuring the best coastal campsites can be just as fulfilling and nurturing to your relationship as participating in the real thing.
Downsize The Documenting – Some moments are more enjoyable if you're not worried about "capturing" them. Take a break from your camera or phone and just be in the moment together rather than looking at it through a lens. How many people do you think have actually seen Old Faithful with their naked eye rather than through a video camera? As a blogger this is a hard one for me because I love to document. But I've recognized moments where I've taken the momentum out of our experience by messing with my camera or by trying to share a picture on instagram. Be selective.
Play In The Eddies – Schedule your recreation time with your spouse so that you're not rushed to get back to the kids or work. When you put a time restraint on your experience together it becomes just another item on your agenda. It takes the element of spontaneity and relaxation out of it. You don't want to paddle like mad down the river just because you have to get back to the babysitter. Enjoy the view and play in the eddies.
Don't Put It Off – We recently took a belated anniversary trip up to Beaver Mountain for some snowboarding. That's right, I said belated. We should have been on that trip 4 months ago but we kept putting it off. Once we were there we were shaking our heads that we didn't do it sooner. Having two full days together was like a big drink of water. Make it a priority.
I hope you find these bits of advice to prove helpful. And I'm sure I'll have to come back to this post in the future to give myself a healthy reminder of what's good for us.
Here's a couple vids of our powder filled snowboarding trip. And remember we're professionals so don't try any of the tricks you see here unless your knees hurt and you're over the age of 35 🙂 (*that's a clever way of saying there are no tricks in this video)
Now for a little sponsor spotlight…while on our snowboarding anniversary trip Damon wore his Free Country Peak 3-in-1 System Softshell Jacket. The price on this guy is $80! Jackets with similar function normally range from $150 -$350 or even higher.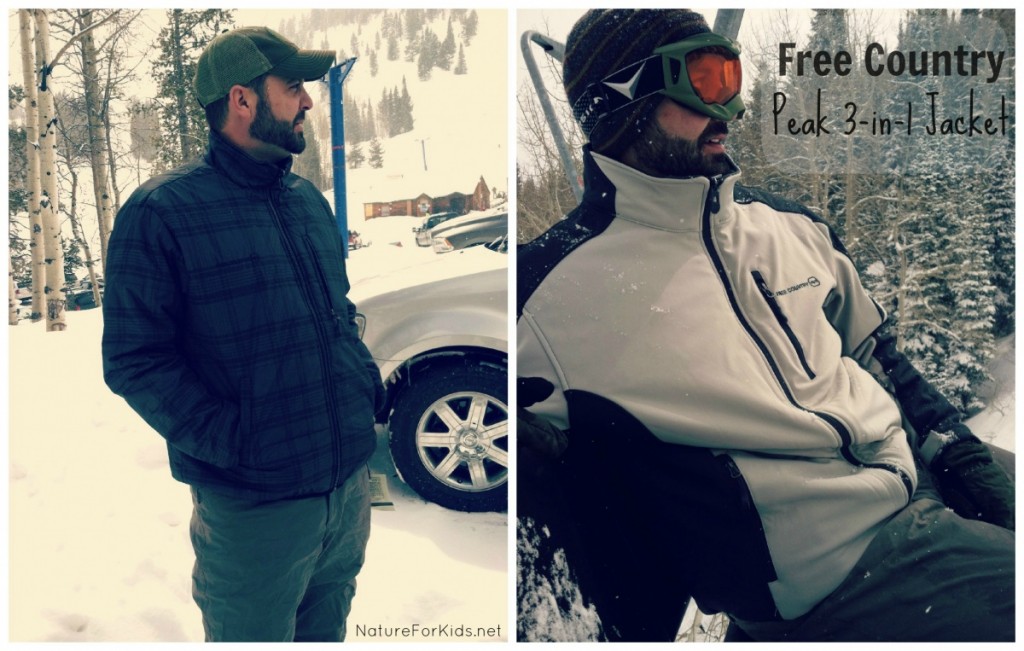 The under portion is a nice plaid polyester filled jacket. Damon wears this portion almost everyday and says he's gotten lots of compliments on the look of it. For activities with a little more foreseen wind and water, like snowboarding, he doubles up, wearing the white softshell stretch polyester jacket over the top.
"As far as function goes the coat is awesome. I didn't notice a difference between this and other name brand jackets I've had in the past that easily cost twice as much. The only drawback I can see is the cut of the soft outershell. It's not very fitted, kind of baggy."
Free Country has great priced adult and children's recreation apparel. If you're looking for killer deals on winter coats for you or your kids next winter now is the time to get them. Many of their items are on sale now!
Have an amazing day,


outdoor recreation, marriage maintenance, snowboard, Beaver Mountain, marriage, recreation therapy, Free Country, Utah, winter apparel

Shawna is passionate about getting kids outside, a pro at procrastinating laundry day and an advocate of impromptu road trips. She's been in the recreation industry for 18 years.