We scoured the Outdoor Retailer show in Salt Lake City this month to find the latest and greatest outdoor kids gear for you. Here are our 15 favorites wrapped in a tidy package of awesomeness…
Light-Up Zip Line – For extreme backyard adventures Slackers has it covered. They have zip line kits ranging from 40 to 100 feet. Their newest item is the Night Riderz version that has a light up seat to extend your hours of play. ($199.00) Slackers also carries a rope swing seat with the same light up option ($39.99) and slack lines for those who want to stay closer to the ground.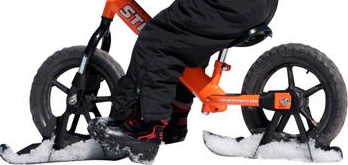 Snow Strider Ski Accessory – In 2011 we introduced you to the Strider balance bike. To extend your child's ride they've created a ski accessory for the winter months! Check out some footage of some little ones ripping it up here. ($35) There's also a grown up version of this that shined at the market. It's called Bike Board and attaches to any size tire…including fat tires and stroller tires. ($389)
Travel Potty & Trainer Seat – The Potette Plus is ideal for camping, hunting, fishing, and boating with little ones who need the potty close, parents you know what I'm talking about. It's a portable potty with recyclable liner. It doubles as a trainer seat on a real toilet and a travel potty. This year they're adding a "camo" color for all us outdoorsy folks. The one thing that stood out to me is that it's more compact than others on the market and it's easy clean up. ($15.99)
Lightweight Exploring Boot – Muddy Munchkins are designed to support the proper development of little feet while keeping them protected from the elements, this boot stays put hugging the ankle and calf using adjustable toggles. They come in water resistant ($52.95) and waterproof ($59.95) options and an additional fleece liner ($16.95) can be added for play in more extreme conditions. The barefoot approach doesn't allow for heavy traction for snowy conditions however, making this mostly a dry/wet weather boot. I was drawn to the height of the boot. It almost reaches the knee, like a gaiter of sorts.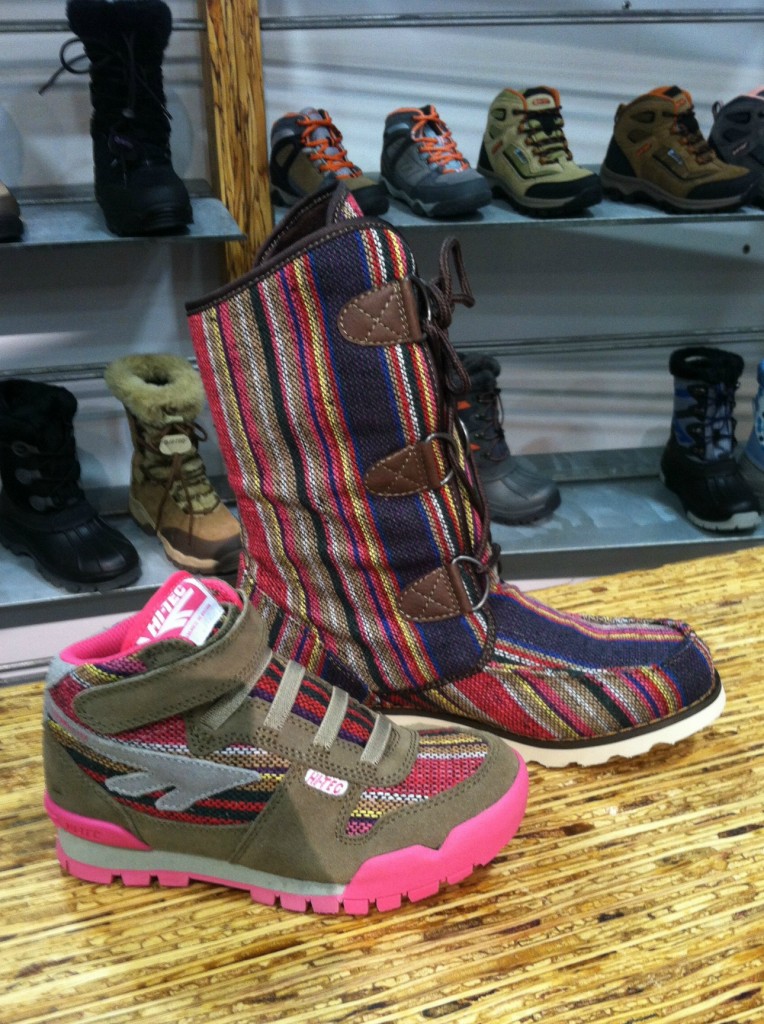 Kids' Hiker With Extended Life – The Hi-Tec Kid's Sierra Lite Wooly Jr. (pictured front) is the newest addition to the Big-Fit family. (msrp $70) Their Big-Fit System uniquely allows the shoes to expand as kids' feet grow. (talked about earlier on the blog here) They've also launched a fun storytelling campaign that highlights its Big-Fit System. They hired a Disney artist to create the Evergrowing Monster character in their new storybook.
Kamik Kids' Winter Footwear –  Lighter, warmer, waterproof and better traction. Add endless options and domestically made to that list and you have a winner. This year's Kamik Elements collection (pictured right) is 30% lighter than other cold weather boots because of the rubber used. It's called Rubber He, because it's light like helium, yet strong like iron. These boots are also comfort rated to at least -30 degrees F. I guess they don't want moms to worry eh. (msrp $34.99-79.99)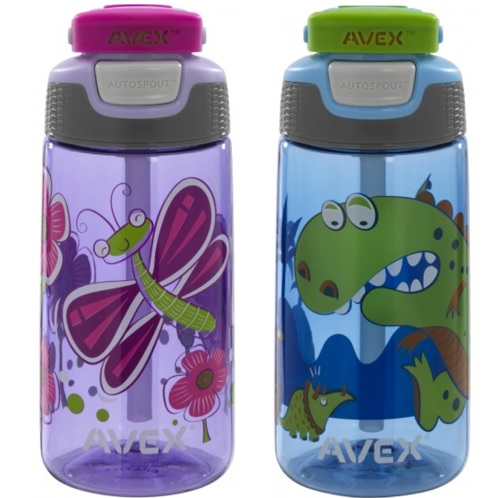 Water Bottles With Fun Graphics – We have a lot of water bottles in our cupboard but the ones that my kids keep going back to are their Avex bottles with the autospout technology (talked about earlier on the blog here). Recently they've come a little further by adding fun new graphics.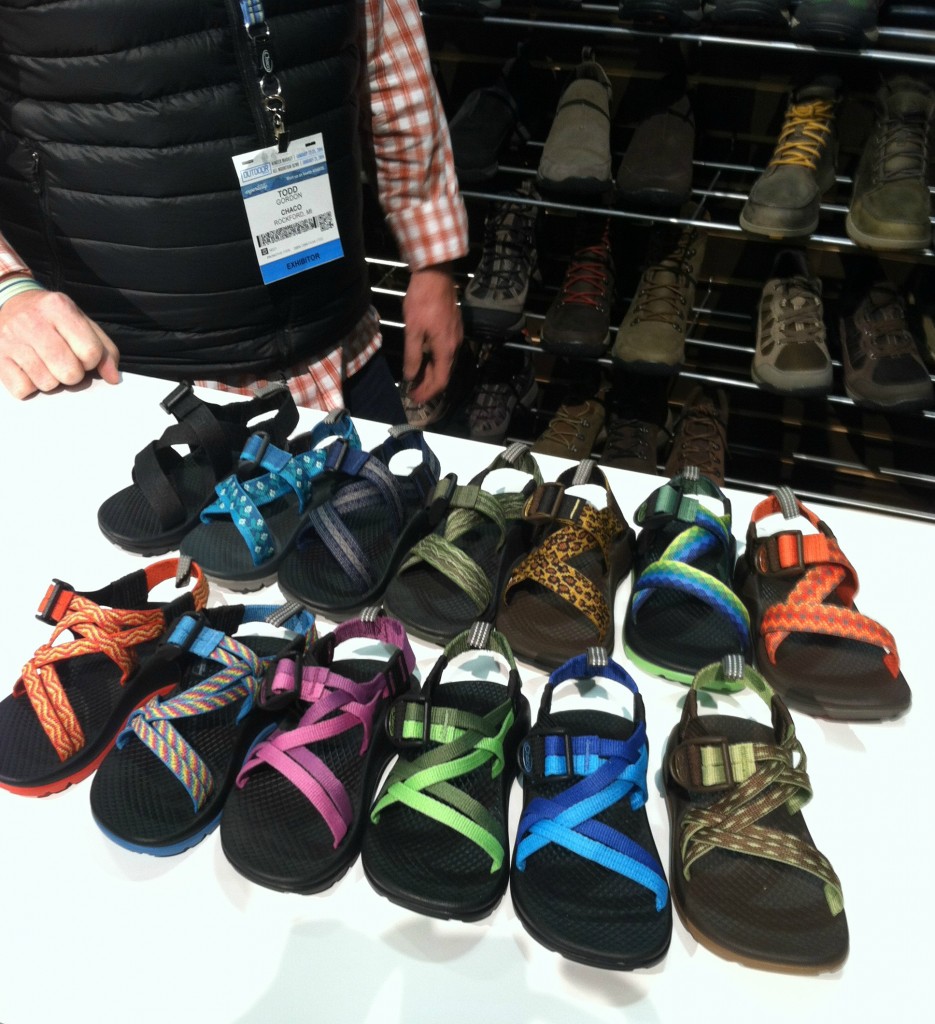 Sandals Like Mom And Pop – Chaco recently updated their kids line to include more styles like mom and dads. The footbed is squishier than mom and dads however, but will provide lasting arch support. The webbing of the sandal wraps around the foot and through the midsole for the ultimate customized fit for mini feet. I'm eyeballing the animal print. It goes with everything right?! ($55.00)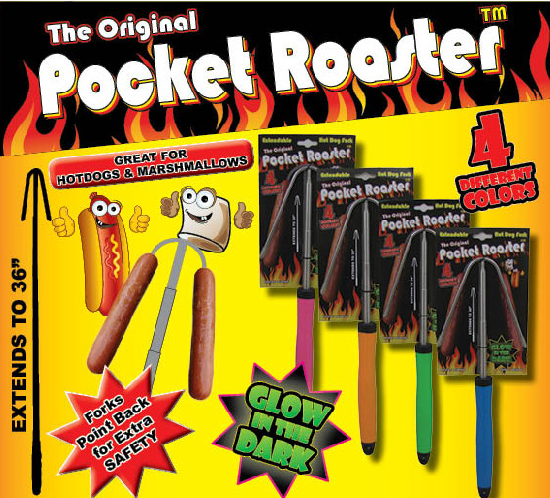 Kid Friendly Roasting Stick – A pretty thought out option for kids. It's not your traditional roasting stick. The Pocket Roaster has end prongs that are turned around to mimimize accidents. It's collapsible and it's handle glows in the dark, so it's easy to find. It's also dishwasher safe!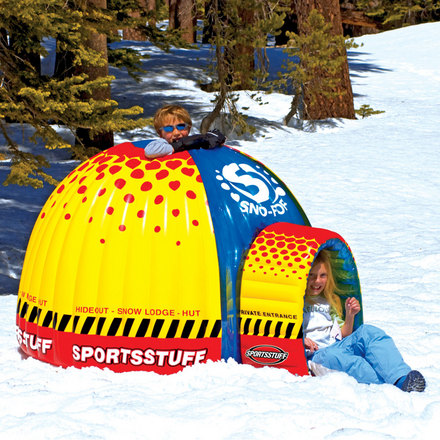 Kwik Tek Sno Fort – Perfect for an epic snowball fight or just a fun day out in the snow this snow fort has a warm sunlit interior with removable top so you can peek out and  see who's approaching your fortress. We were especially impressed with it's heavy duty construction. ($149.99)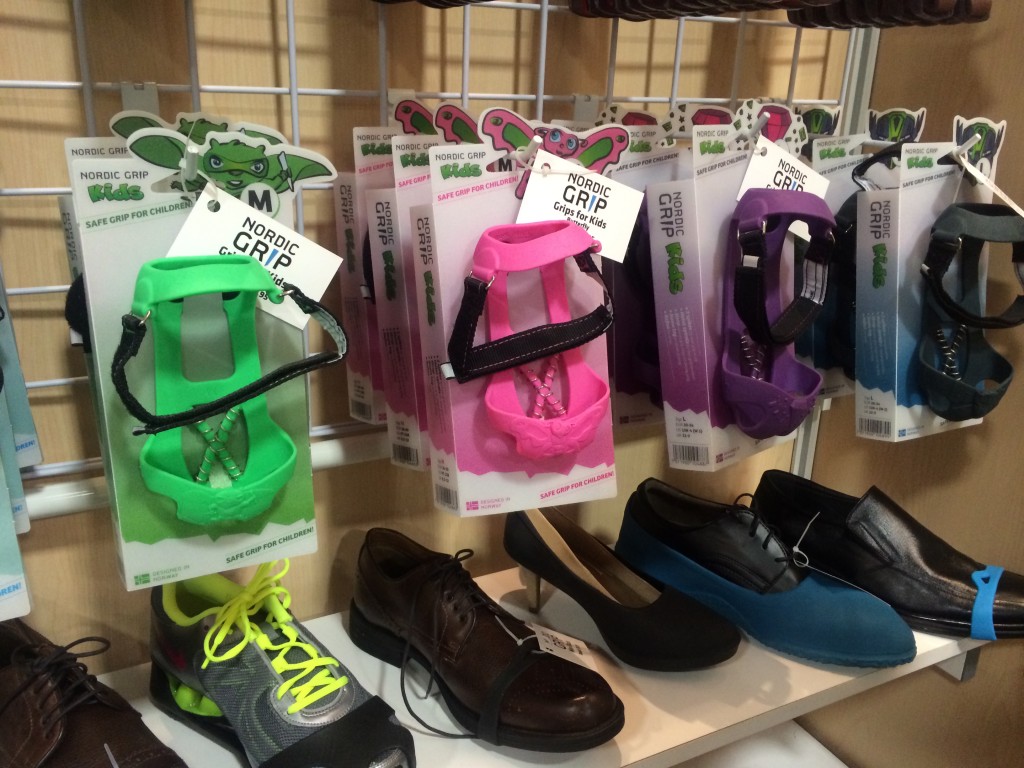 Nordic Grips For Kids Shoes –  These stylish grips for littles are easy to put on and durable. They fit over pretty much any shoe or boot and come in 6 vibrant colors. I like that the bottom sports both the wire grip over the ball of the foot and toes and metal studs over the heels. They retail for $17.95.
---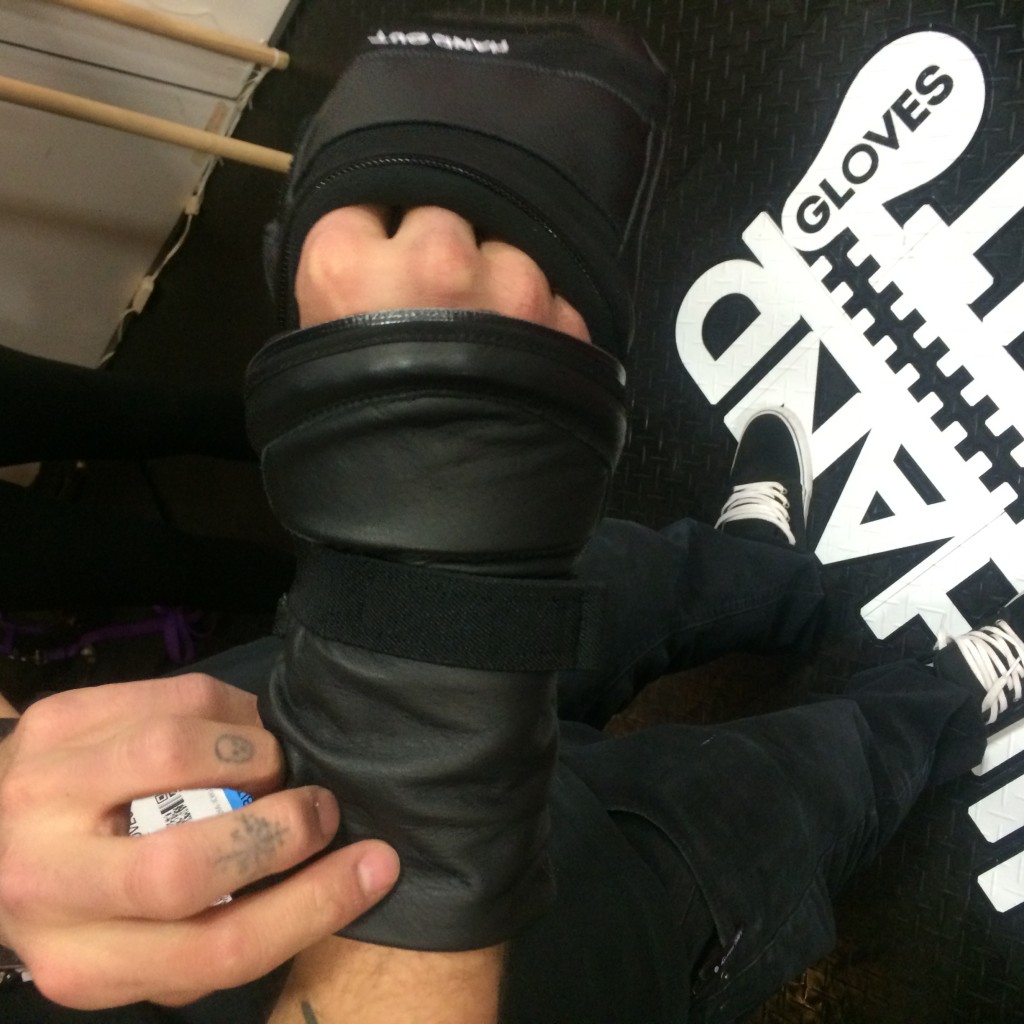 Glove With Easy Access To Fingers – The Hand Out Glove is a lifesaver for any mom or dad with kids. It is made from durable leather and has a waterproof zipper across the knuckles giving easy access to your hands when your kiddo needs help tying up boots, fastening zippers or securing a helmet, all without having to remove the gloves! Handout is a brand new company, with the OR show being their big debut. Currently, their gloves come in unisex sizes from small to XL, with the small fitting most women perfectly. Comes in a mitten style as well. They hope to come out with a ladies-specific and kids line in the next couple of years so keep your eyes peeled! They retail for $119.99.
---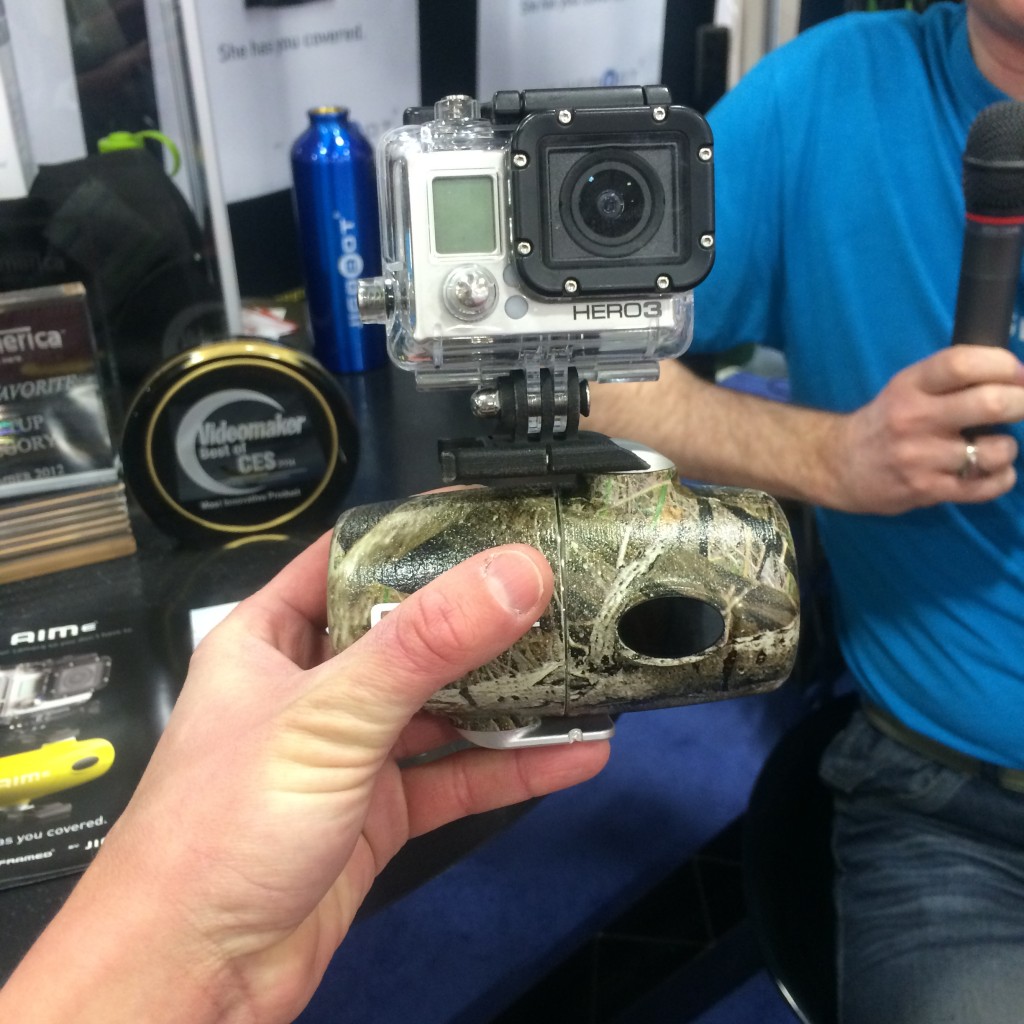 AIMe by JigaBot –  I just so happened to stumble upon this booth, and man am I glad that I did! Have you ever tried to film your kids at a sporting event, or on an outdoor adventure, and found it hard to keep them perfectly framed in the shot? Well no more worries, my friends! Aime will fix that! Aime is a device that attaches to your phone, camera or even GoPro, and pivots and swivels to keep the subject centered in the shot at all times. It has a sensor that you attach to your child and a variety of mounting clips making it easy to attach to a helmet, a tripod or even onto a countertop. It is super lightweight and easy to use too! Aime won the "most exciting product award" at the OR show and I believe it! I'm pumped about this product! Aime is scheduled to hit stores in June, so head over to their website and check it out! Also, they are giving away some free swag daily, so sign up for that while you are there! Aime retails for $299.99

GV Kid Trail Snowshoes – Made in Canada these snowshoes are a bit different than most, a mechanism prevents the harness from pivoting, uniting the harness and the snowshoe. This keeps the shoe from digging in the snow, making it easier and more fun for kids to learn without feeling sloppy. The rachette system at the toes is kid friendly and easy to put on as well. ($59.97)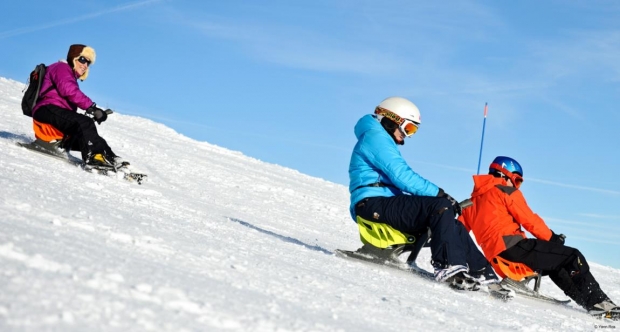 TSL Sled's Yooner Enduro – The Yooner is a sophisticated sled/ski experience. The seat is mounted on a suspension system over a ski and a claw brake is activated by pulling back on the handle. This year they introduced the Yooner Enduro. It's is a bump up featuring a carved ski rather than just a straight ski, making it suitable for all types of snow. ($175+)
There you have it, our top 15 latest and greatest outdoor kids gear! Hope it helps you in your outdoor endeavors this year!
Take a look at our Latest and Greatest list from the last couple of years
Latest And Greatest Kids Gear August 2013
Latest And Greatest Kids Gear August 2012
Latest And Greatest Kids Gear January 2012
Latest And Greatest Kids Gear August 2011
Outdoor Retailer, Avex, boots, Chaco, gear, gloves, Hi-Tec, hikers, igloo, snow fort, snow bikes, snow boots, Jigabot, Kamik, kids, kids footwear, kids gear, latest and greatest, Muddy Munchkins, outdoor gear, potty, potty training, roasting stick, winter, strider bike, snow fort, shoe grips, sandals, ski+accessory, sled, snowshoes, video+camera, yooner, Aime, zipline, Bike Boards

Shawna is passionate about getting kids outside, a pro at procrastinating laundry day and an advocate of impromptu road trips. She's been in the recreation industry for 18 years.