I am going to be honest for a moment…  I love, love, LOVE that my kids like being outside.   I delight in those moments when they choose to build a sand castle, or jump in the leaves, or even play in the snow over vegging in front of the TV.   I love it so much that I have even been known to "Overgram" my proud momma-moments a time or two (or three).  BUT, I have to admit that there is ONE thing about playing outside, or more specifically,  playing outside in the SNOW that makes me a teeny-tiny, itsy-bitsy bit annoyed with all things winter-related.  And this is where the honesty comes in…
I dread putting on my kid's gloves.
There.  I said it.   But seriously, who's with me on this one?  I can't be the only human being who hates snow glove duty, spending what feels like a never-ending ETERNITY trying to coax each small finger into the correct finger-hole, only to have the gloves taken off in less than 10 minutes later, (for who knows what reason), and then having to start the process all over again!   And sorry to ride this negativity train a bit further, but does it ever drive you nuts when you go to put their gloves back on and the inside layer has come completely out?  Or better yet, when you've finally gotten the gloves ON and your kid starts complaining that his fingers are cold after only 5 minutes of being outside?
I hate to sound like a poorly scripted infomercial, but if any of what I have just said rings the slightest bit true for you, then Nature For Kids has found the perfect solution!  You have to try Veyo's Mittyz!  Besides the fact that the designs of these gloves are absolutely ADORABLE, I've come up with three reasons why you MUST give Veyo Mittyz a go!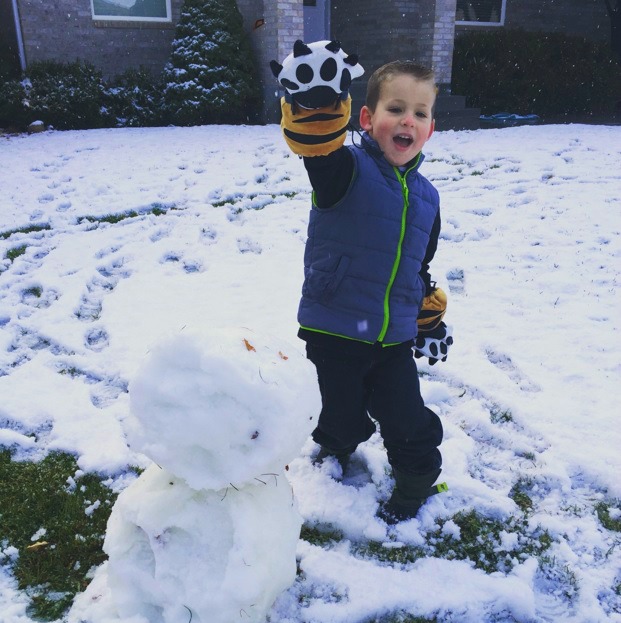 #1 – Veyo Mittyz DO NOT have finger holes OR a thumb hole.  That's right!  You read it correctly!  No finger holes = NO HASSLE!  Their EasyThumb design makes getting the gloves on and off a cinch!
My son who just barely turned four is able to get tiger paw mittyz on and off all by himself which makes my life as a mom of three boys MUCH easier!  In fact, just this morning with less than five minutes to spare before we had to leave for preschool, I found him outside, building a snowman wearing his school clothes, some cowboy boots, and these gloves.  I mean, what do YOU do when you have five minutes to spare and three inches of freshly fallen snow at 8 in the morning?   Build a snowman, of course!
#2 – I LOVE the fact that they are made with a DWR waterproof softshell membrane that is super comfy and warm!  My son kept saying over and over again how much he liked how the gloves felt and how warm his hands were.  Even after HOURS of playing in the snow, I never heard one complaint about his hands getting cold.   I like the fact that the liner of the glove is attached to the outer shell so that the glove can be turned inside out with ease, which makes washing them so simple!
#3 – Lastly, they stay ON!  I know what you are thinking… Can I get a Hallelujah!?  I loooove the double pull wrist strap and the gauntlet cinch strap which seal out snow and water and keep the gloves secure!
I kid you not when I say that we spent hours playing in the snow and never had any issues with them getting wet inside! Plus, he was able to build a snowman, make snowballs and even snowboard in them with no slippage.
And if THAT isn't convincing enough, check out this video I put together of Skooter testing these gloves on his first day out on his snowboard.
I look forward to purchasing another pair of these gloves for my 1 year old, (maybe the Drago Mittyz, or the Flipper Mittyz?) AND I am also SUPER PUMPED for their new Kid's (5+) line that will be available in September of 2016!
Oh, and by the way, Veyo has teamed up with us to GIVEAWAY a pair of Mittyz!  That's right!  Enter below and save your sanity in the snow this winter!
*Veyo provided NFK with the tiger paw Mittyz for review.
Amanda is an energetic mother of three rowdy boys, owner of a dog named Chaco, and is the wife of a wannabe fisherman named Jake. She spends her mornings running the foothills by her home (for fun) and the rest of the day chasing around her kids (also, for fun). She's had a plethora of job titles with some of her favorites being: Truck Loader, Ski Lift Supervisor, Fire Fighter, and Physical Education Teacher. But her all-time favorite occupation has been being a mom.
Latest posts by Amanda Steele (see all)