Nature For Kids Introduces…Skadi! A 50 lb. lug of hairy licking lovingness. We named her after a Norse snow goddess and ironically her name means "destruction". Like any dog she has definitely destroyed many a things at our house ranging from shoes to a hot tub cover. But even though our dog has her downfalls we still love her and take her almost everywhere with us!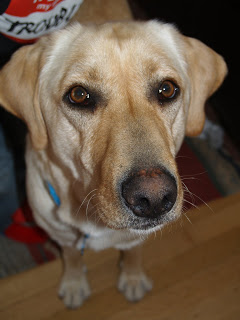 Skadi is a yellow labrador retriever. She's about two years old. She's beginning to show signs of intelligence and control but her puppiness still shines through occasionally.
Skadi loves the outdoors. Knee deep snow, heavy brush or winding trail, she's there. When we begin to put things in the backpack and put shoes on she's turning in circles and heading for the door with excitement.
Our latest hike with Skadi was to Mary's bathtub, a steep boulder-strewn incline which follows a small creek. At the end there is a tall waterfall and cave. It lies near Joe's Reservoir, close to Huntington, Utah.
Before we even hit the trail head she was wet and muddy up to her haunches. She spent a lot of her time nosing through brush, zigging and zagging across the trail, sniffing out an earlier passerby. When she got thirsty she went pouncing into the creek lapping up the cold water. And of course she periodically would shake the water all over us. She was good about roaming and exploring and then coming back and checking in with us though. Because of the boulders we had to climb over and the steep incline, by the time we got back to the car she was exhausted. She slept all the way home.
Even though she is a dog and has natural outdoor instincts, I highly doubt she could survive very long in the wild. We try to prepare for her. We have a handy packable way to store food and water for her. We have dog bowls, designed by Outward Hound, made out of fabric, gore-tex I believe. The top bowl holds food and has a draw string cord to keep it closed tight. Another bowl attaches under that bowl with a zipper. When she's thirsty and we're not near water we simply unzip the bottom bowl and fill it with water from our Nalgenes. Much more convenient and appetizing than letting her try and lap up the water while we pour it from our own water bottles. We usually throw her bowls in our backpack when going on longer hikes. But usually we just leave it in the car.
It makes me smile everytime I see Skadi in her natural surroundings. She reminds me of a little kid playing in a sandbox. She truly loves it. And I'm glad we can provide that time in nature for her.
I'll be posting some more about Skadi and the equipment we like in the future. But until then let Nature For Kids know about your dog! Leave a comment about your dog's favorite spot or what equipment it uses. Later!


hiking, dogs, outdoors, adventure, dog backpack, equipment for dogs

Shawna is passionate about getting kids outside, a pro at procrastinating laundry day and an advocate of impromptu road trips. She's been in the recreation industry for 18 years.