This week I had a friend, who is preparing to have her second child, ask about helpful hints on camping with new infants and small children. Her and her husband already have a camping trip planned and their baby isn't even born yet…high five from across the U.S. Sadie!
This got my wheels turning in my rusty cobweb filled head and I had to refer to my journal for reminding…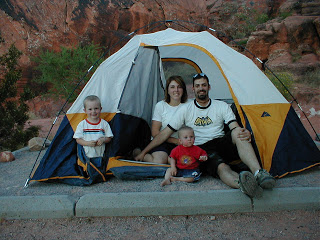 September 13, 2004 - This is an entry I wrote when Corbin was almost 3 months old.
"Corbin slept through the night for the first time on Friday. The funny thing is we were camping out.
All four of us squished inside our tiny tent. But it was fun. He slept 8 hours straight. It was so nice."
*What I do remember from this trip, besides my first restfull night as a new mom, is what he slept in that night. I got Corbin's car seat and put it in the tent and lined it with warm blankets. I had him sleep in his normal pajamas and then put a fleece bunting over the top. I then topped it off with a little beanie on his head. Once I laid him in the car seat I just put a couple more layers of blankets over him. Fleece and synthetic down materials work best, I think. Because he was raised a little from the ground inside the car seat I knew I wouldn't roll over on top of him. It allowed me to sleep better because we were pretty crammed…but warm! 
April 28, 2002 - This entry was written when Cru was almost 3 months old.
"We're on our way home from City of Rocks right now. We had a blast! I wasn't too excited to go because the forecast said it would be rainy and cold; and it was, but not too bad. Cru was great. It was his first camping experience. We made the tent nice and cozy so we could all sleep in it. The first night was kind of rough but last night we stayed really warm and Cru slept all night. The climbing was rad!"
*I totally remember what made the difference between the first night and the second night. We learned a new trick that we still use to this day. When we set up our tent, and know it's going to be cold and wet, we put a tarp under it. then we lay a fleece blanket over the top of the tent, where our air vents are. Then we put the fly on over that. It works extremely well. The heat stays in better but so does the stale air. Gets kinda stinky in there with three boys!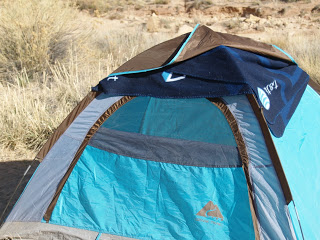 Becca

said…
Love it! This is all great advice-we're going camping tonight and it'll be our baby's first time. Four months and ready to rough it!
Shawna.. I absolutely LOVE this blog. City of Rocks is one of my family's all-time favorite places to go climbing. We probably go there once or twice a summer! Things that I have learned while camping with my family.. Well, I do not have kids myself (of course) but through my own experience have found that sleeping together as a family in a tent is ALWAYS warmer that sleeping in the back of a vehicle… The ground offers a bit of insulation that you cannot get when you are lifted three feet off the ground in the back of a truck bed. Also, Amen about the wipes thing. My neices and nephews have NO CLUE what it is like to go camping without having a wipe-down at the end of the day!
Mand
Sadie

said…
Shawna,Thanks so much for this post. Our computer crashed so I haven't been able to see it until today. I am even more excited about our camping trip.Great advice and so cool that you could look back on your journal to see what you did. I need to do better about the whole journal thing.

Thanks again,
Sadie
tent, camping, outdoors, adventure, summer fun, outdoor recreation

Shawna is passionate about getting kids outside, a pro at procrastinating laundry day and an advocate of impromptu road trips. She's been in the recreation industry for 18 years.