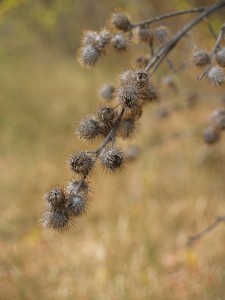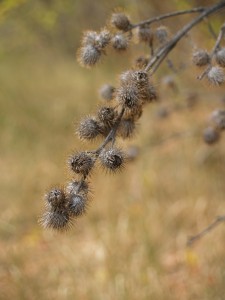 OK first off I have to admit I had to spellcheck the word cocklebur. I've said it a million times but never had to type it out. I grew up calling them cacaburs. Uh…yeah I grew up calling a lot of things differently. Ambliance ambulance, fruit and cotton-tail fruit cocktail and the list goes on.
Enough with my childhood, let's get on with it. During a recent hike with the kiddos I looked down and realized we were all covered in cockleburs.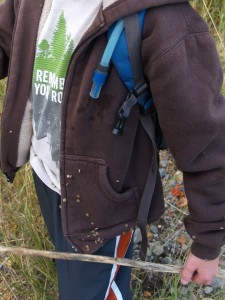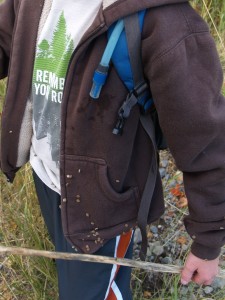 And Kaiser the dog didn't escape their clutches either. He lodged a bigger one right in his grandpa beard.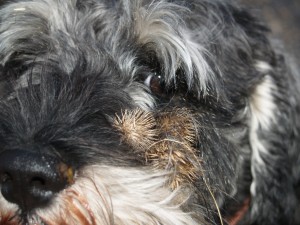 I guess I'm not suprised. By the end of summer this should be expected. Everything is drying out and these annoying hitchhikers are excited to travel to new places.
Once these cockleburs were brought to our attention we began to see them everywhere and what their plants looked like. There were several different kinds, extra small to ginormous. My creative son got really excited and started collecting them…"MOM they're like legos". He went on to build this killer cocklebur man.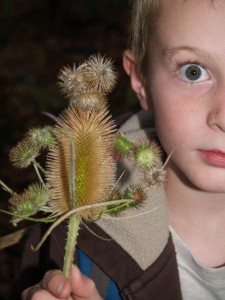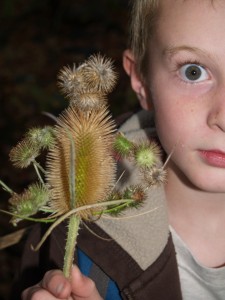 If any of you are interested he is now selling it on ebay for a mere $100.
Although cockleburs are overall unpleasant I guess they do have some redeeming value. In my book about medicinal plants it says that the leaves of the plant can be used to make tea in order to get rid of diarreah. Now that I think about it my Cacabur pronounciation was right on target!
I found a great site about cockleburs that you can check out if you want more indepth info on this natural velcro.
nature for kids, outdoors, hiking, cocklebur

Shawna is passionate about getting kids outside, a pro at procrastinating laundry day and an advocate of impromptu road trips. She's been in the recreation industry for 18 years.