This post is sponsored by Duracell
As a youth one of my favorite things was our spontaneous family drives.  We would all pile in our big green van and head out into the woods.  My parents would always tease us about being lost, although once somehow we ended up on the wrong side of the Teton Mountains without realizing it. "Mom those mountains look kinda funny."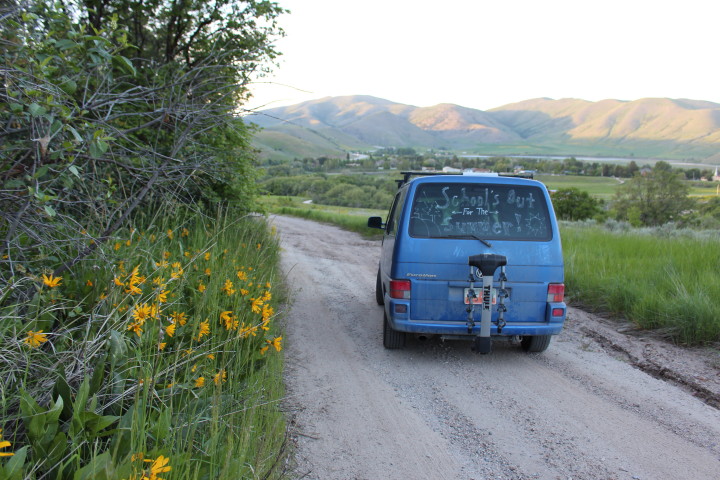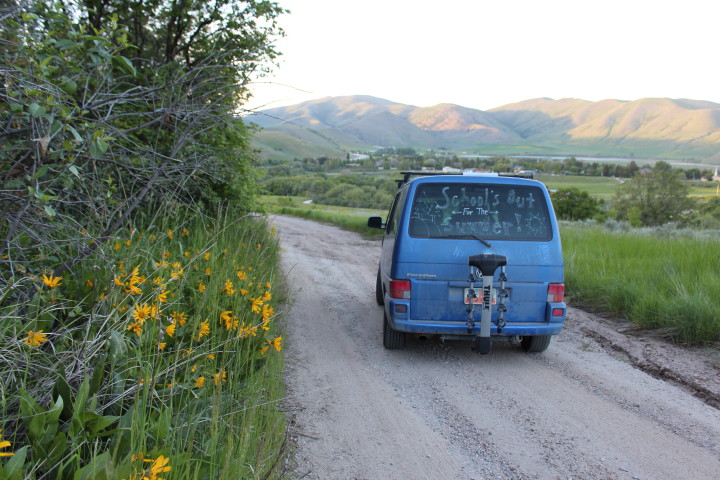 It was a family joke about only having a half tank of gas and needing to survive off a bag of chips and licorice. These experiences have come full circle. Now I take my own kids on those spontaneous family drives, only this time it's a big blue van.
A couple of weeks ago I was talking with my brother about a book we had both read called "Vagabonding".  A must read for anyone wanting to look at life and travel in a different, more simple way.
We talked about how we both have 72-hour kits for emergencies, but how cool would it be to have a vagabonding kit for those "emergency" times when you just need to go on a spontaneous adventure. We decided to create one.  It doesn't truly hit the meaning of long term vagabonding from the book, but having a bag packed with some essentials for those quick, get the heck out of dodge, day trips has been great!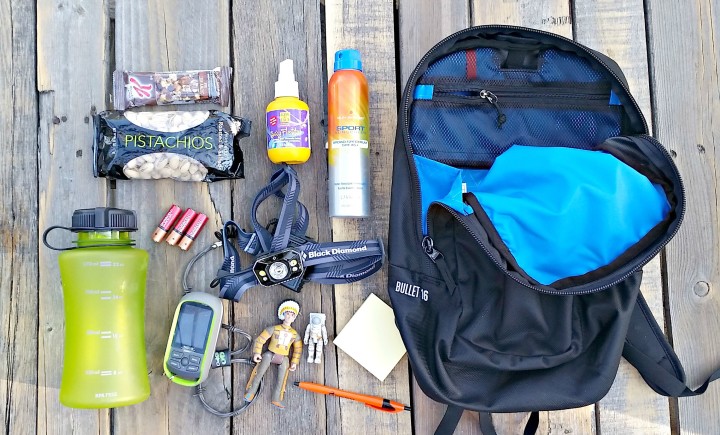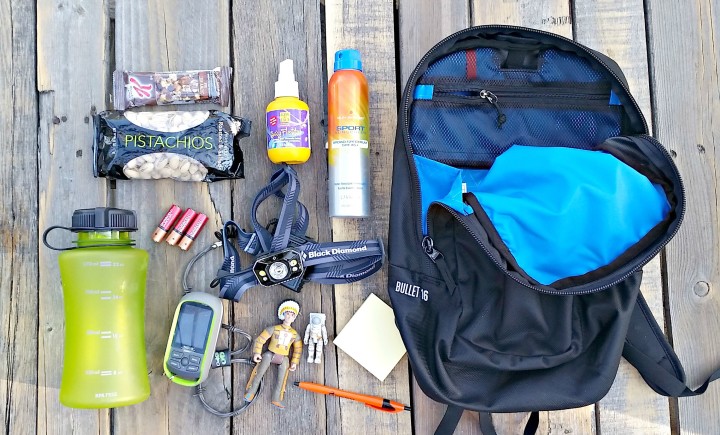 Here's what we included in our spontaneous adventure bag…A headlamp, extra Duracell Quantum batteries, water bottle, geocaching stuff (GPS, small toys, pen and paper), snacks, sunscreen and mosquito repellant. That still leaves room for a travel journal/sketch book, compact rain ponchos, first aid kit or even a light portable hammock.
 GIVEAWAY TIME!
Giveaway Ended 9/3/2015 Winner @thegaugewars Congrats!!!
Duracell has graciously provided a Spontaneous Adventure Bag for one of you! It includes the Bullet 16 Black Diamond backpack, Black Diamond Icon LED Headlamp, a 20 pack of AA batteries and a 20 pack of AAA batteries!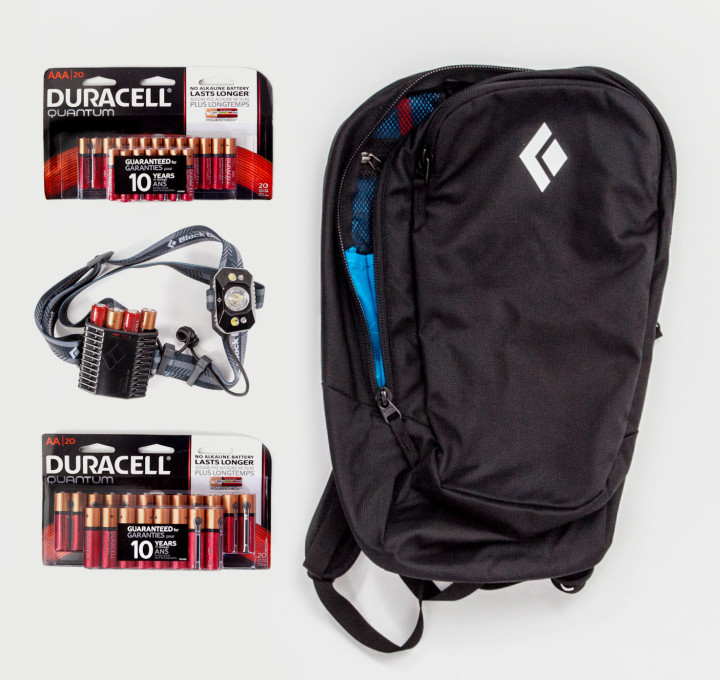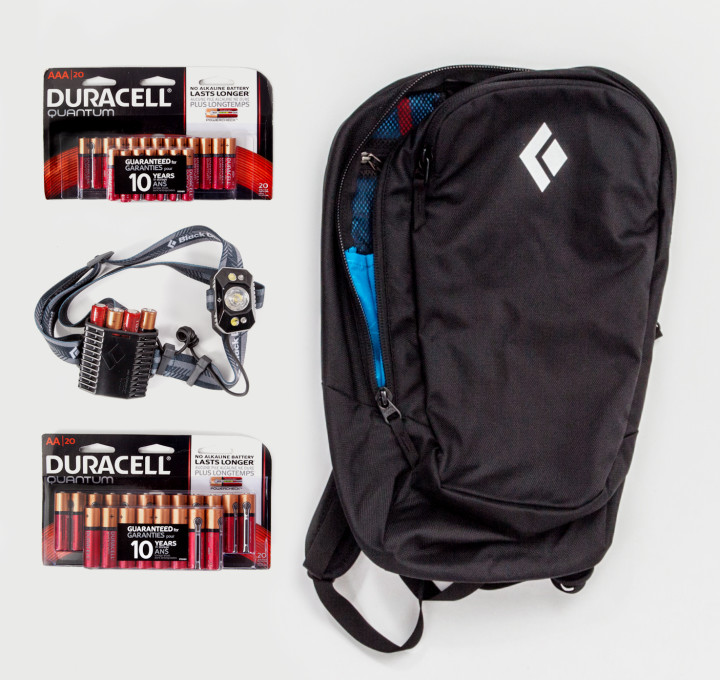 The giveaway is being held on our instagram account and all you have to do is follow us there and on the bag picture tag 3 friends that you would want to go on a spontaneous adventure with! This giveaway will end Wednesday September 2nd. US residents only please.
Duracell also teamed up with world-class free climber Kevin Jorgeson. In January 2015, Kevin completed the first free climb of Yosemite's Dawn Wall, what many call the hardest route ever climbed. In this film, he discusses night climbing, his gear, and why Duracell is the only battery he trusts. Take a look…
Watch Kevin and his father, Eric, recount Kevin's journey from his first camping trip to that epic free climb. It really hit home to me how much a parent can have an impact on a child. In small and simple ways Kevin's father helped him reach the top of that seemingly impossible climb.
Here's some more info on the Duracell Quantum Batteries included in this giveaway…
LASTS LONGER IN 99% OF DEVICES VS. THE NEXT
LEADING BRAND
Duracell is the #1 trusted battery of outdoor enthusiasts & campers
The Duracell Quantum Hi-Density Core stores more power for more performance
Duracell Quantum is the only battery brand with PowerCheck on the cell for accurate reading of remaining power
Duracell DURALOCK technology locks in power for up to 10 years in storage.
And here's a link to the book we referred to:
*Purchasing from the links provided gives us a sliver of goodness to keep this blog running. So please click and shop! We're so very grateful for any and all your support!!
*Duracell provided us with the items seen above. We were not compensated monetarily by Duracell for this post.