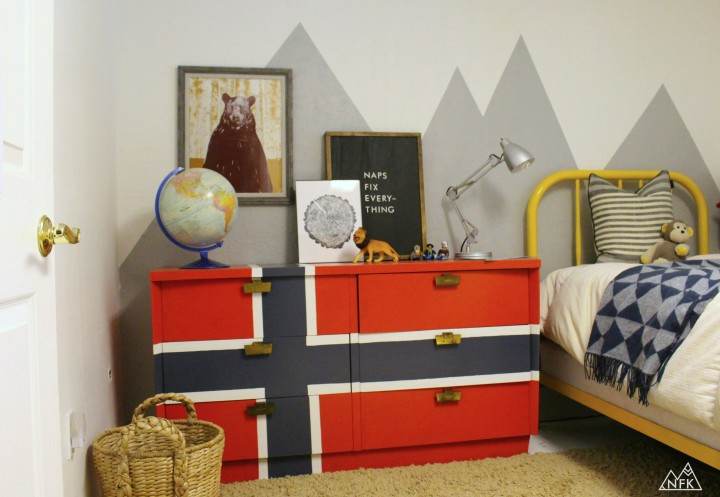 Our youngest decided he was ready to have his own room so we tore out the ugly pink carpet in the "junk room" in the basement and did a total transformation on it.
Axel helped with the whole transition starting with paint on the walls. I taped out a mountain pattern on the wall and  he and his sister painted it and peeled off the tape. It was a quick way to bring the outdoors in!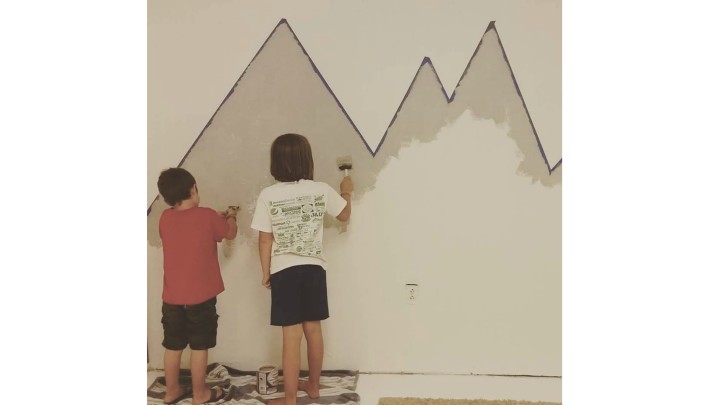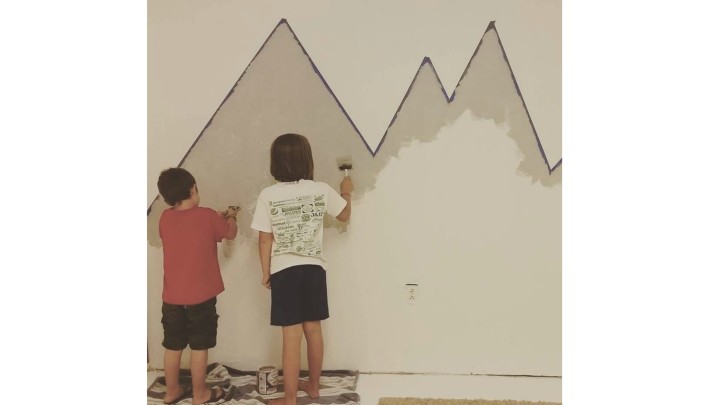 We thrifted a dresser which we painted a Norwegian flag on. It's a little nod to Axel's namesake. His great great grandfather came over from Oslo in 1890. We also thrifted a lamp, globe and desk while we were at it. Watch as Axel gives you the tour below…
Our room wasn't complete without a Salty Bison sign and Light and Ink stump print. We also made a bookshelf out of an old pallet and mounted it close to his bed for easy access.
I traded some goods for the rock art (but that's an easy DIY) and got the vintage pennants and the bed frame from the Farm Chicks Antique Show. If you're a junker than that's the place to go YO….first weekend in June every year in Spokane, WA. Love it there!
So that's all the bits of goodness I have. If you have any questions or suggestions let us know!
Here's another decorating post that may interest you including a video of our bunkbed climbing wall!
And here's another of our decorating posts that focuses on maps and books .

Shawna is passionate about getting kids outside, a pro at procrastinating laundry day and an advocate of impromptu road trips. She's been in the recreation industry for 18 years.