Work has a bad rap. A lot of people think it is the polar opposite of play. If I'm not playing I'm working, and when I'm working life stinks. This is usually how the thought process goes.
So let's take a look at this definition…
"the mental state of operation in which a person performing an activity is fully immersed in a feeling of energized focus, full involvement, and enjoyment in the process of the activity."
Now is this the definition of work or play?
Tricky I know. Actually it is the definition of "flow", a psychological concept coined by Hungarian psychologist Mihaly Csikszentmihalyi.  Basically flow is characterized by complete absorption in what one does and in turn potentially can be the definition of both play and work.
After reading more about the concept of flow I had a lightbulb moment. For many years I've wondered why my dad doesn't "play" more. (Sorry Dad using you as an example here!) He isn't one to buy a lot of toys or travel on the weekends. He mostly just "works". We give him a hard time about working too hard but in reality he's been in a state of flow for many years. He has an "energized focus" is "fully involved" and finds "enjoyment in the process". He doesn't need to play on the weekends. He's fulfilled enough with a job well done. That's a state of living that many people aspire to reach.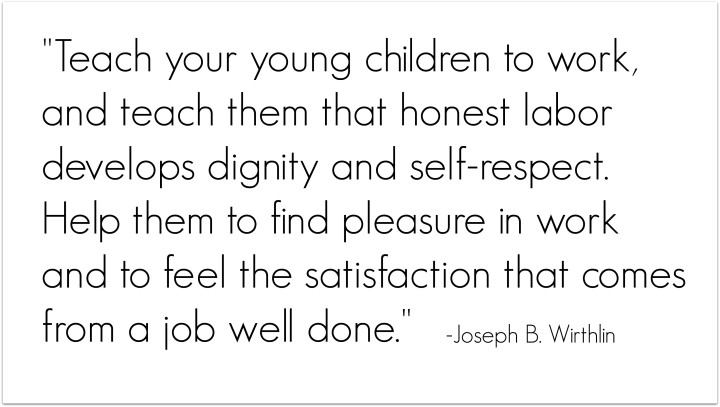 Teaching kids to work is different now compared to the days of milking cows and churning butter. Small yards and big houses scattered across the country have left little to be done outside beyond taking the trash out and feeding the dog, or have they?
We've Listed Here 15 Outdoor Jobs Kids Can Do This Spring:
(We encourage you to find appropriate sized work gloves and tools for your kids when taking on these jobs. They'll last a little longer that way and have more fun. Also, be present during this work experience so you can make sure the job is being done correctly and so you can cheer each other on.)
Shake Rugs - This one is fun for little ones, especially if you hang the rug over a railing and give them a big stick!
Chop Firewood - Whether you have a wood burning stove inside or a fire pit in the backyard it's nice to have some firewood on hand. Have kids learn to use tools like saws and hatchets through this process. Stacking the wood is fun for all ages too! Watch us chop up a fallen quaking aspen.
Prune Trees - Older kids can cut while younger ones haul the branches to a drop zone or trailer. Not too long ago we cut out loads of juniper bushes at our place.
Pick Up Dog Poop - Our kiddos recently got the joy of this one, check it out.
Rake Up Leaves And Clean Flower Beds - We try to do this in the fall before winter hits but we always seem to have loads of leaves in our flower beds once spring rolls around.
Clean and Repaint BBQ - After sitting out for a couple winters straight barbeques can begin to look old and haggard. The kids can give it a face lift by cleaning the grill and repainting the exterior with heat resistant spray paint.
Clean The Air Conditioner Condenser Unit - This is a very kid friendly job. It's just a matter of knowing how to use a vacuum cleaner. We followed this tutorial from Pinterest. It has great step by step instructions.
Wash Windows
Change Exterior Lightbulbs
Sweep Out The Garage
Plant Seeds - We've done this a couple of times and it's a lot of fun! Watch our demo we did on how to grow seedlings in your house.
Fix Bike Tires - Axel recently learned to fix a flat tire. Watch his bike mechanic skills here.
Spread Lawn Fertilizer
Clean Gutters - Watch as our kiddos clean grandma and grandpa's gutters. (Lot's of wood chopping included in this video as well)
There you have it! 15 outdoor jobs for kids to do this spring. And because Work Hard /Play Hard is overdone…we say just go with the "flow". 
Be fully involved
Have an energized focus
Enjoy the process together!
Thanks for stopping by guys and if you liked this post you may also be interested in reading these:
6 Tips For Teaching Kids A Good Work Ethic

Shawna is passionate about getting kids outside, a pro at procrastinating laundry day and an advocate of impromptu road trips. She's been in the recreation industry for 18 years.